Michel Wildi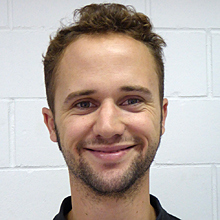 Contact
Send mail
Tel. +41 (0) 21 693 6171
Centre Ecotox
GR B0 391
EPFL ENAC IIE-GE
Station 2
1015 Lausanne
Tasks at the Ecotox Centre
Developement of a sediment modul within the Modular stepwise procedure

Establishment of a list of priority substances for sediments

Establishment of sediment quality criteria

Harmonisation of sediment sampling techniques in Switzerland
Areas of Expertise
Assessment of global water and sediment quality

Samping and field work

Aquatic ecotoxicology:

 


Toxicity test on periphyton

Determination of biotic and abiotic compounds

Use of fluorescent markers of cellular stress

In-situ and mesocosm cultures

Develoment/Management of an information system

Use and application of Swiss environmental standards

Scientific presentations
CV
Since 2015

Scientific assistant in sediment ecotoxicology at the Ecotox Centre

2014 - 2015

Internship at the Swiss Confederation : Development of an information system for dangerous substances (IGS-Check) in the area of water protection for routine measurements and in case of accident (Swiss Federal Office for Civil Protection)

2011 - 2015

Master in environment sciences specialisation "Water" (University of Geneva). Title of master thesis: Influence of the composition of periphyton on the sensitivity to metals. Environmental biochemistry and ecotoxicology group, University of Geneva

2008 - 2011

Bachelor in biochemistry (University of Geneva).