Dr. Alan Bergmann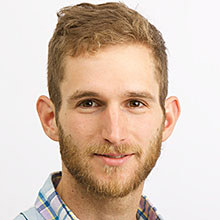 Contact
Send mail
Tel. +41 (0) 58 765 6834
Oekotoxzentrum
Eawag
Office BU F14
Überlandstrasse 133
CH-8600 Dübendorf
Tasks at the Ecotox Centre
Developing bioassays for effect directed analysis
Identifying toxicants in food packaging materials and drinking water
Applying planar chromatography based bioassays
Areas of Expertise
Analytical and bioanalytical chemistry

in vivo and in vitro bioassays
Chromatography-based analysis

Effect directed analysis
Passive sampling
CV
2017 - present

Postdoctoral researcher at the Ecotox Centre

2017

Postdoctoral researcher in Environmental and Molecular Toxicology, Oregon State University

2011 - 2017

PhD Candidate in Environmental and Molecular Toxicology, Oregon State University, Corvallis OR United States. Thesis Title: "'Tis a gift to be simple: On passive sampling and related techniques for reducing the complexity of contaminant mixtures from the environment."

2006 - 2011

B.S. diploma in Environmental Toxicology, Western Washington University, Bellingham WA United States
Publications
Bergmann AJ, Points GL, Scott RP, Wilson GR, Anderson KA. Development of quantitative screen for 1550 chemicals with GC-MS. Analytical and Bioanalytical Chemistry. In press. 
Bergmann AJ, North PE, Vasquez L, Bello H, Del Carmen Gastanaga Ruiz M, Anderson KA. Multi-class chemical exposure in rural Peru using silicone wristbands. J Expo Sci Environ Epidemiol. 2017. DOI: 10.1038/jes.2017.12 
Bergmann AJ, Tanguay RL, Anderson KA. Using passive sampling and zebrafish to identify developmental toxicants in complex mixtures. Environ Toxicol Chem. 2017; 36(9):2290-8. 
Paulik LB, Smith BW, Bergmann AJ, Sower GJ, Forsberg ND, Teeguarden JG, et al. Passive samplers accurately predict PAH levels in resident crayfish. The Science of the total environment. 2016; 544:782-91.