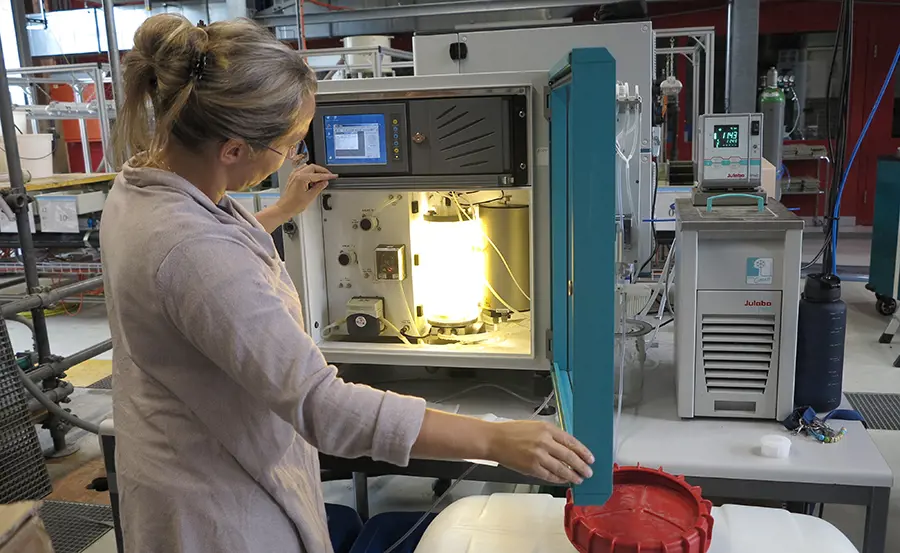 Online biomonitoring of effluent from WWTP
Many Swiss wastewater treatment plants (WWTP) are currently being upgraded to improve the removal of micropollutants. The quality of the treated wastewater must be regularly monitored  - which, up to now, has been done by sampling for a limited time period. However, wastewater is dynamic and its composition can change at short notice. The continuous monitoring of wastewater quality opens up new possibilities, for example for the monitoring of ozonation or critical industrial wastewater. Biomonitors are interesting for such continuous online monitoring: they use organisms such as bacteria, algae, aquatic invertebrates, mussels or fish as sensors that indicate changes in water quality.
There are several parameters that show a response to pollutant exposure such as bioluminescence (for bacteria), fluorescence (for algae) and swimming behaviour and respiration (for aquatic invertebrates and fish). So far, there is only little experience on the suitability of these systems for application in WWTP. In this project, 5 such test systems will be applied to continuously measure treated wastewater of different composition and to evaluate their potential for online monitoring. These biotest systems use different groups of organisms (algae, water fleas, crayfish and fish) and make it possible to detect many important environmental pollutants, including pesticides and insecticides.