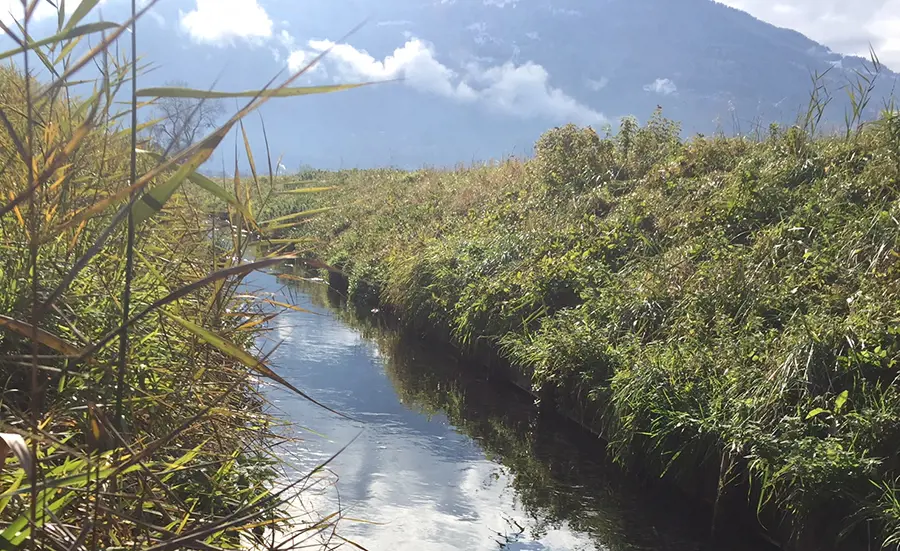 Assessment of sediment quality in Valais canals
The Swiss Water Protection Ordinance sets clear protection goals to safeguard water quality. Among other points, the ordonance states that no pollutants are allowed to accumulate in sediments. However, so far no recommendations for the cantons exist on how to integrate sediment assessment into surface water quality monitoring programmes. Since 2015, the Ecotox Centre has been working on a sediment module for the assessment of surface waters together with the Federal Office for the Environment and Eawag. In a first step, a unified procedure for sediment sampling and for the risk assessment of the pollutants in sediments has been developed.
To evaluate the sediment quality in an integrated way, a combination of chemical and biological investigations on several levels is particularly useful. Therefore, the Ecotox Centre has selected a triad approach consisting of physico-chemical, biological and ecotoxicological methods to investigate the sediment quality in three artificial channels in the Lower Valais - the Stockalper Canal, the Bras-Neuf Canal and the Ile Canal. At each of the ten investigated sites, sediments are sampled and (i) their chemical composition (metals, PCBs and PAHs), (ii) their toxicity to the nematode C. elegans (reproduction and growth) and the ostracod H. incongruens (mortality and growth) and (iii) the composition of the species communities of the nematodes and oligochaetes are studied.
Report
Beauvais, R., Vivien, R., Ferrari, B.J.D., Casado-Martinez, C. (2020) Évaluation de la qualité des sédiments des canaux Stockalper, du Bras-Neuf et des îles (Valais, Suisse) basée sur une approche de type triade.
Publication
Beauvais, R., Vivien, R., Ferrari, B.J.D., Casado-Martinez, C. (2020) Etat des sédiments de canaux artificiels : Des pollutions de source urbaine, industrielle et agricole affectent les organismes bentiques. Aqua & Gas 100, 11, 72-81