Dr. Benoît Ferrari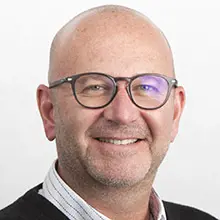 Contact
Send mail
Tel. +41 (0) 21 693 7445 / +41 (0) 58 765 5373
Centre Ecotox
GR B0 392
EPFL ENAC IIE-GE
Station 2
1015 Lausanne
Tasks at the Ecotox Centre
Strategic and operative management of the Centre
Group Leader Sediment and Soil Ecotoxicology
Planning, supervision and implementation of applied research projects in sediment and soil ecotoxicology
Planning, implementation of and teaching in continuing education courses
Areas of Expertise
Development of exposure and effect indicators for evaluating chemical stress
Integration of such indicators in laboratory- and field-based approaches for assessing the quality of aquatic ecosystems
Development of adapted bioassays for active biomonitoring
Transfer of such ecotoxicological tools and approaches to end users
CV
since sept 2019

Interim Director of the Ecotox Centre

2013 - 2019

Group leader for sediment and soil ecotoxicology at the Ecotox Centre.

2008 - 2013

Invited researcher: Irstea (Cemagref), UR Aquatic environments, Ecology and Pollution, Lyon, France. Assessment of the quality of ecosystems, active biomonitoring

2002 - 2008

Assistant: University of Geneva. In charge of the development of the ecotoxicology laboratory at Institut F.-A- Forel.

2000 - 2002

Engineer of research: Irstea (Cemagref), Freshwater Ecosystems Biology Unit, Lyon, France. Environmental risk assessment of pharmaceuticals.

1996 - 2000

Dissertation: Université de Metz, France, UR Ecotoxicité, Biodiversité, Santé Environnementale. Evaluation of the ecocompatibility of wastes: Ecotoxicological approach.

1995 - 1996

Scientific collaborator: Université de Metz, France. Literature review on the state of the art of the ecotoxicological evaluation of wastes.