Back to overview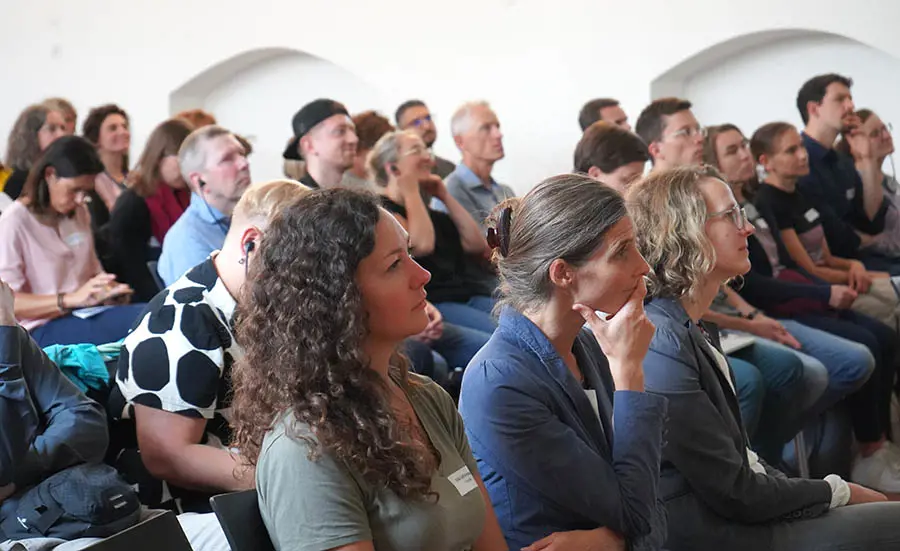 06. September 2023, Topic: Aquatic Ecotoxicology Soil Ecotoxicology Sediment Ecotoxicology Risk Assessment
Dialogue Day 2023 in Solothurn
At the Dialogue Day, around 60 participants learned more about current projects in applied ecotoxicology, exchanged ideas and expressed their needs.
The Dialogue Day is a new offer by the Ecotox Centre to learn more about current projects in applied ecotoxicology and to exchange ideas. Around 60 participants from public administration, private companies and research took advantage of the event, which took place on 31 August 2023 at the Old Hospital in Solothurn. In his welcome address, Director Benoît Ferrari emphasised the hub function of the Ecotox Centre between practice and research in Switzerland as well as the important cooperation with international working groups and structures.
A cross-section of the Ecotox Centre's current projects in the fields of water, sediment, soil and risk assessment was presented. For example, a strategy is currently being developed within the framework of the National Action Plan for Plant Protection Products to monitor residues of plant protection products in soils. This requires not only ecotoxicological guideline values for soils, but also bioindicators that detect effects on soil fertility.
Information, discussion and opportunity for input
As part of an extensive monitoring project, the Ecotox Centre has also used numerous bioassays and biomarkers to assess water and sediment quality - a comparison with chemical analysis shows which of these methods are suitable for more targeted investigations in each case. A project together with external partners demonstrated that small amphipods can detect the impact of WWTPs on water bodies. Another presentation showed the environmental risks posed by the current problem substances PFAS, UV filters and microplastics. Over a cup of coffee, the poster session provided an opportunity to learn about other projects of the Ecotox Centre, such as online biomonitoring of wastewater, the investigation of estrogenic effects or the effects of tire abrasion.
In the afternoon, the participants discussed in groups on the topics PFAS, bioassays and soil: The aim was to work out the current challenges and needs in these areas and to formulate possible projects to solve them. Where possible, these needs will be incorporated into the Ecotox Centre's development plan for the years 2025-2028. Dialogue between stakeholders from the Ecotox Centre, authorities, industry and research is central to solving existing problems in the field of applied ecotoxicology. In order to make a contribution here, the dialogue day will be held every four years in future, with a progress report on current projects every two years.