Back to overview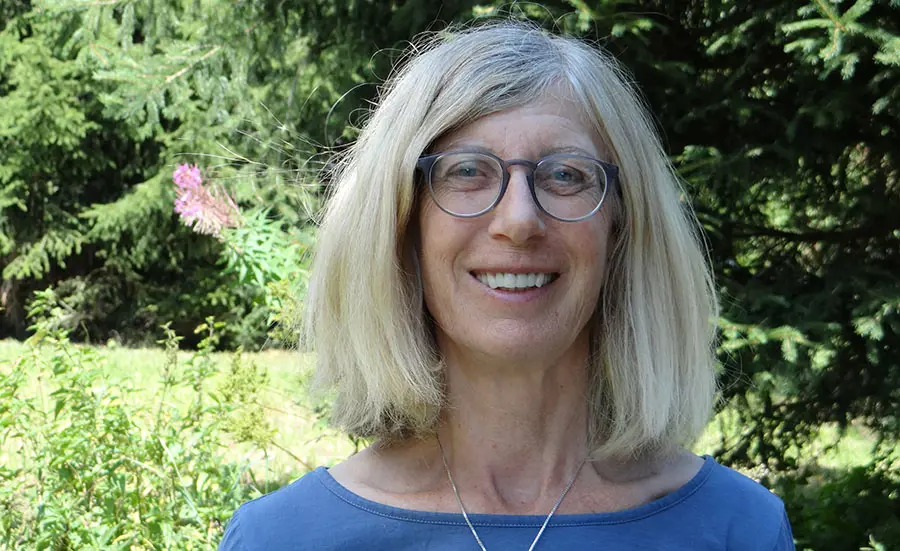 30. August 2021, Topic: Aquatic Ecotoxicology Soil Ecotoxicology Sediment Ecotoxicology Risk Assessment
Inge Werner: Farewell from the Ecotox Centre
Inge Werner led the Ecotox Centre for nine years, and in that time established and cemented its success. She resigned from the leadership role in 2019 as part of her staged road to retirement. At the end of August she will be retiring fully and returning to her home of choice in California. She talks here about her passion for ecotoxicology as well as the difficult rules in Swiss laundry rooms! 
What are some of the special, lasting memories of your time at the Ecotox Centre?
The commitment and team spirit of my colleagues, who put heart and soul as well as deep scientific understanding and conviction into protecting the environment from harmful substances. It was so enjoyable working together with them all, and we achieved a great deal.
What were the biggest challenges?
For us, the biggest difficulties lay in understanding the needs of the stakeholders, particularly the authorities. Most of us have a background in academic research. Marrying these two different worlds was no easy task. Working on academic research questions and communicating the findings to the academic community is very different from designing regulatory measures for the purpose of protecting the environment, and then communicating and implementing these. At the same time, it is of course tremendously important that scientific knowledge is translated into real-world applications, and we are extremely enthusiastic about doing so. I think I can speak for all the Ecotox colleagues when I say that.
How did you get into ecotoxicology in the first place? And what is the motivating force behind your work in this area?
I took the "second-chance" education route, so I was already 27 years old when I began my biology degree. At that time, in the 1980s, surface waters in Germany were very polluted – no-one wanted to swim in the Rhine, and even back then there was a big problem with nitrates in groundwater in many areas. There were also those terrible accidents – the Sandoz fire and chemical spill in Schweizerhalle, and the Chernobyl disaster. Environmental protection, and in particular the protection of water as the very basis of our survival, is close to my heart. Unfortunately, ecotoxicology didn't exist at the time as an academic discipline, so I studied limnology as my major, and at the same time got involved in the water profession through an environmental NGO in Freiburg im Breisgau. It wasn't until I did my PhD in California that I delved properly into an ecotoxicology topic, and following that, during my post-doc time at UC Davis, my research focussed primarily on pesticides.
How was it for you, coming back to Europe after two decades in the USA?
Not so easy. I had the feeling that I could no longer express myself properly in German, and there were some rules in Switzerland that I had to get to grips with, too (like the rules in the laundry room J). My colleagues and neighbours really helped me out on that front, and I did feel at home in Switzerland very quickly. I put that down to the fact that I grew up in South Baden in a very similar culture and with a similar dialect. Nevertheless, I was very proud of the fact that my first phone call with a Swiss-German speaker passed off without any blunders.
I was not very familiar at the time with the European ecotoxicology experts, but that soon changed with my involvement on the board of the German-speaking branch of SETAC (Society of Environmental Toxicology and Chemistry). We also forged a great many connections through the annual SETAC GLB conference which we organised in Zurich in 2015. I value this community greatly. We have a solid, common foundation that connects us: the fact that we are all striving towards creating a healthy environment.
So, what's next for you? What are you looking forward to the most?
Well, I have had a bit of practice at being retired over the last two years. First of all I want to allow myself to just coast along for a while and spend time with family and friends. Fortunately I am in good health, so I am planning to walk in nature and travel for as long as possible. I would like to continue to use my professional experience, ideally in teaching, and if possible in less-developed countries where there is a need for the knowledge, and a desire to implement it.
Links
Link to video interview on Youtube

Interview with Inge Werner on the occasion of the handover of her leadership in 2019 
Short biography
Inge Werner was originally from Bräunlingen in the Baar area of the Black Forest in Germany. She initially trained as a foreign language secretary (in English, French and Spanish), working in this role for a few years. She then completed her Abitur (high school graduation) at the technical high school in Freiburg, and received the Scheffel Prize as "best in school". Between 1984 and 1990, Inge studied biology in Freiburg, Konstanz and San Francisco, majoring in limnology, microbiology and hydrology.
After working as a freelance limnologist, she studied for her PhD at the San Francisco State University in Tiburon and the University of Mainz, investigating the toxic effects on amphipods in sediment. During her studies and doctoral thesis, Inge was supported by the German Academic Scholarship Foundation and the German Academic Exchange Service. Inge then transferred to the University of California in Davis for her postdoc, where she subsequently worked as a Research Scientist. From 2005 to 2010, she was Director of the Aquatic Toxicology Laboratory and Adjunct Professor there. In collaboration with local and national authorities, she led projects in the field of aquatic ecotoxicology. Her work focussed on, among other things, the sublethal effects of pesticides on aquatic organisms.
In 2010, Inge took over as Head of the Swiss Centre for Applied Ecotoxicology (Ecotox Centre). The Centre imparts its ecotoxicological knowledge to authorities and enterprises, as well as educating the professionals and serving as a competence centre for applied ecotoxicology in Switzerland. In 2019, as part of her staged retirement plan, Inge handed over her leadership role to Benoit Ferrari and stayed on to work part time as a Scientific Collaborator and mentor. She is now looking forward to the next chapter of her life, which she will be spending with her husband mainly in California, her second home.