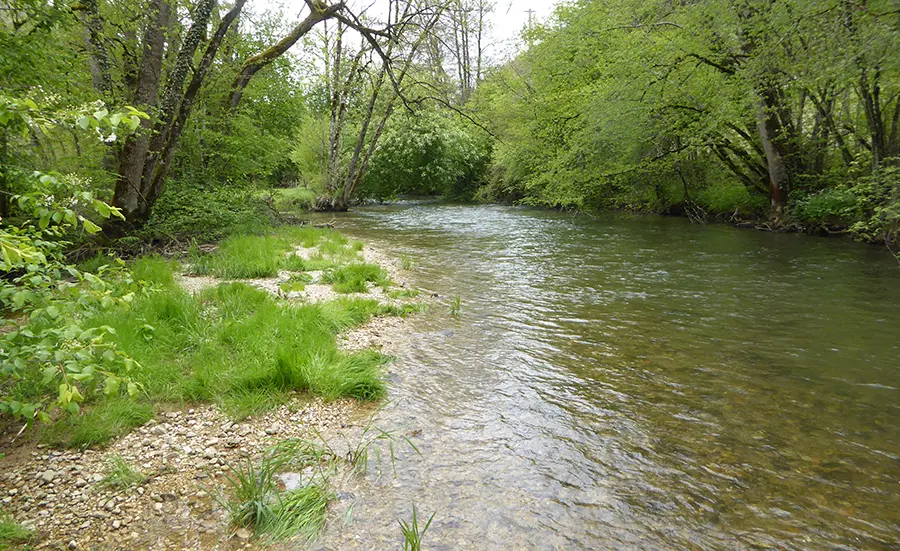 Water and sediment quality in the Suze
The Suze is one of the beacon waters in the Canton of Bern. In contrast to most midland waters, the summer-cool, productive Jura waters have been able to maintain an above-average brown trout population. Now there are worrying signs: the spawning fish catch in autumn 2022 was poorer than at any time in the last 25 years. And after a poisoning event with fish mortality in 2019, the fish population downstream of the Villeret WWTP is not recovering as expected. The number of small animals and biofilm growth at the bottom of the watercourse have also declined sharply. One reason for this could be the insufficient purification capacity of the WWTP. In recent years, this has occasionally led to high loads of ammonium and nitrite in the effluent, which can be toxic to fish and organisms at the bottom of the watercourse, such as stream fleas.
In order to be able to estimate the pollution of the Suze, the Ecotox Centre is currently examining the water and sediment from upstream and downstream of the WWTP with various bioassays on behalf of the Fisheries Inspectorate of the Canton of Bern. This should help to determine possible toxicity for fish and also for their food sources such as small animals. Test systems with fish gill cells, genetically modified mammalian cell lines, gammarids, ostracods, chironomids, unicellular algae and luminescent bacteria are used. In addition, the oligochaete community of the river sediments is analysed.