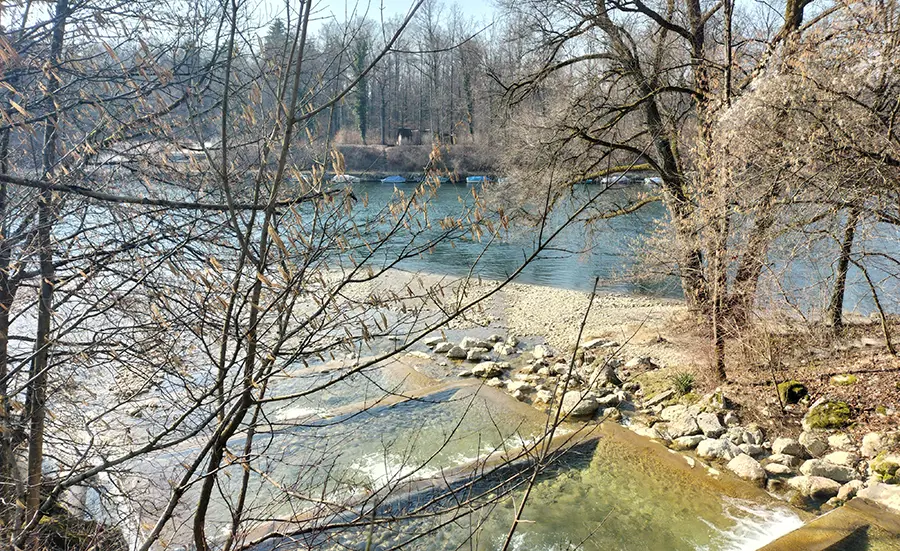 Assessment of sediment quality in the Aare
Since 2001, the biological quality of the lower Aare between Lake Biel and the Rhine has been repeatedly monitored by the water protection agencies of the cantons of Aargau, Berne and Solothurn. This is because long-term monitoring is the best approach to observe the biological communities and their changes over time. In 2008 and 2018, the biological quality of the upper Aare between Lake Thun and Lake Biel was investigated by the Canton of Berne. In 2018, the sediment quality was also investigated, not only by chemical analyses for metals and PCBs, but also with a sediment contact bioassay to assess the ecotoxicological quality.
In 2022, the biological quality of the lower Aare will again be investigated: namely small invertebrates of the river bed (macrozoobenthos), algae growth (especially diatoms), growth of other algae and population of juvenile fish. In addition, water samples are taken for eDNA analysis. The sediment samples are analysed for metals and organic micropollutants by the Canton of Berne and the University of Berne. Finally, the Ecotox Centre assesses the ecotoxicological sediment quality using bioassays with ostracods and chironomids in a joint bachelor thesis with the University of Applied Sciences Northwestern Switzerland (FHNW). Thereby the sediment quality along the entire Aare will be assessed.